We create, kids play!
The universe
The app
Mash&Co is an app that contains cartoons, interactive cartoons and mini-games, united by a single narrative thread. It is about the adventures of Mash and Periwinkle in search of water disappeared from the forest. Now original stories, 2D animations and the latest dynamics for digital entertainment are in a unique universe of mushrooms, snails and nature guardians to learn together the importance of nature, of collaboration, sharing, teaching values such as the respect and mutual aid.
The cartoons series
Mash&Co also becomes an animated series. Following the adventures of Mash and Periwinkle from the app you may meet other protagonists that we will find together in this funny series for preschoolers. We will deal with the unusual connections that children have of the world through the objects coming form drawer of the imperfect inventions by Farbenmaster, their mentor and friend inventor. Each episode of Mash&Co will address important issues by strengthening the value system of children.

La mission
We created the Mash&Co universe fascinated by the learning potential behind video games and digital media. Together with experts in child psychology, we have understood the ways of immersive learning that can teach the smallest social issues with the "learning by doing" method. Thus was born Mash & Co, the app that brings together cartoons, interactive cartoons and mini-games telling stories of friendship, ecology and respect in a surprising way. Stories without dialogue or voice-overs want to encourage the development of creativity, to respect the learning times of children. We aspire to teach children the difference between linear media such as cartoons and interactive media all in one place. Involving you, mothers, fathers and educators, thanks to a special panel, you are going to monitor your children's progress by following their cognitive skills, strengthening thus the parent-child bond, making sure that the time dedicated to digital media can be a moment of union.

The team
Our team consists of passionate designers, developers and animators. We firmly believe in digital as a means that democratises the learning, and therefore we work to create cultural and entertainment content always being careful to use the dynamics offered by new technologies in a creative, original way without ever abandoning the fun and our mission.
Main characters
But above all, the team is nothing without our main characters: Mash the smart little mushroom, laid and creative, finds the most improbable solutions using the objects that he keeps in his big red hat.
Periwinkle is the mischievous snail and Mash's best friend. It is a born troublemaker, but luckily Mash will always save his skin.
Farbenmaster, the genius inventor. Tireless and patient will be the guide of the two children to discover the world.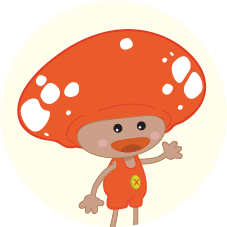 Mash
The sweet mushroom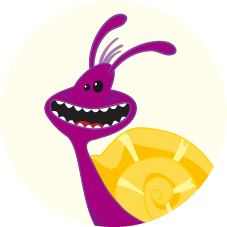 Periwinkle
The silly snail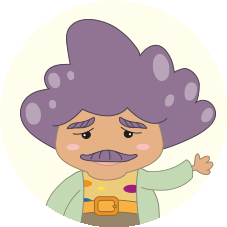 Farbenmaster
The inventor, Mash and Periwinkle's mentor.