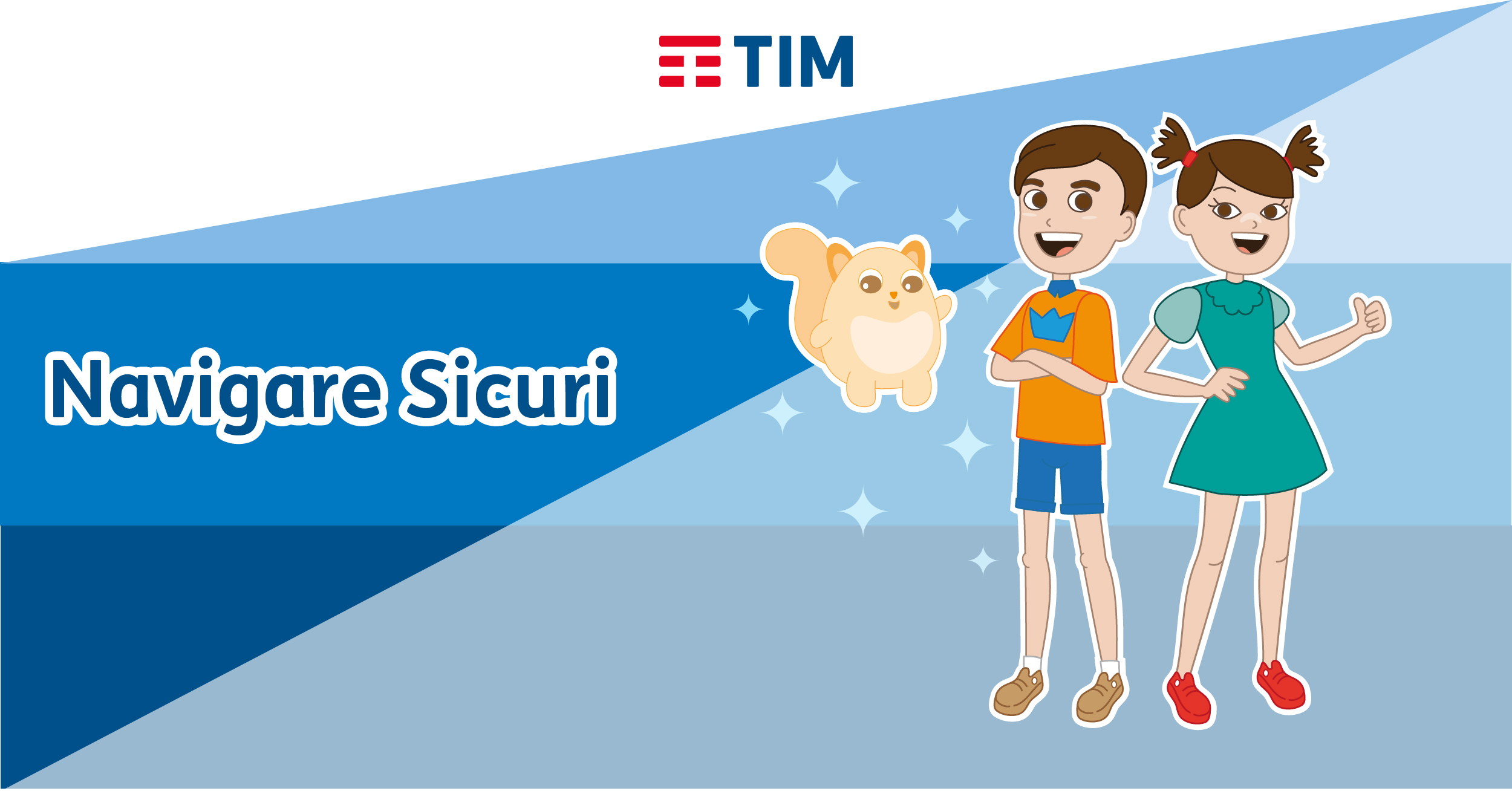 To educate means to implement the right inclinations of the soul and the potential of the mind. With the same mission that drives us to create the world of our friends Mash and Periwinkle, we ventured into the adventure of Navigare Sicuri (Safe Surfing), an app that we developed in collaboration with TIM. Besides Mash&Co, our app created for the little ones, we are a startup that builds content focused on games and cartoons tackling social issues, diversity, ecology, and so on.

In the Navigare Sicuri project, we have created each cartoon episode's stories, trying to use the power of storytelling as a means to convey values that TIM, our primary partner for this adventure, want to bring out through the rules of safe use of the internet.
With the involved parties in the project, we decided to create five stories, starting from an ordinary family consisting of mom, dad, Fede, and Ale. These latter are siblings who will be able to understand at their own expense the dangers that lie behind the web.
In fact, the protagonists of the story are Ale and her brother Fede. They are full of life, curious as all children of their age; they love listening to music, using their smartphone to chat with friends and use the internet to do their homework.
---
---
The purpose of Navigare Sicuri
We aimed to create situations that can happen in real life by putting the characters in the position to reflect and to be aware of their actions in front of the use of their devices connected to the internet.
Here are the five stories of Navigare Sicuri
1. E se fossi io? What if it was me?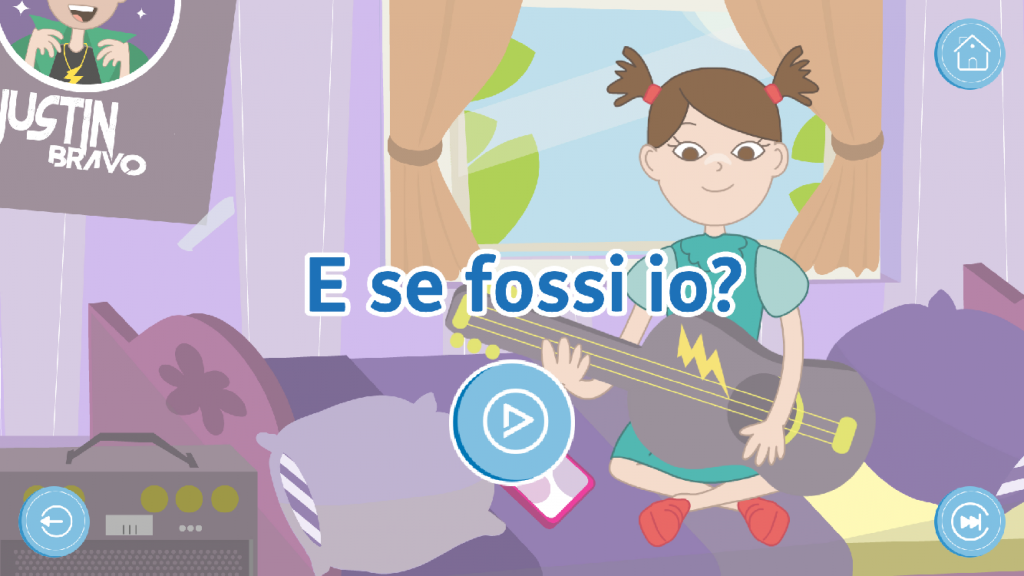 In this first episode, we merged the rules "Always report any inappropriate or illegal contents" and "Do not act like a bully online." Ale portrays the situation with the difficult choice to share or not a photo in which she sees a bullied person. A squirrel, who represents the conscience, will make the girl reflect on taking the wise decision, not acting like a bully with others, and avoiding feeling uncomfortable if she faces the same situation.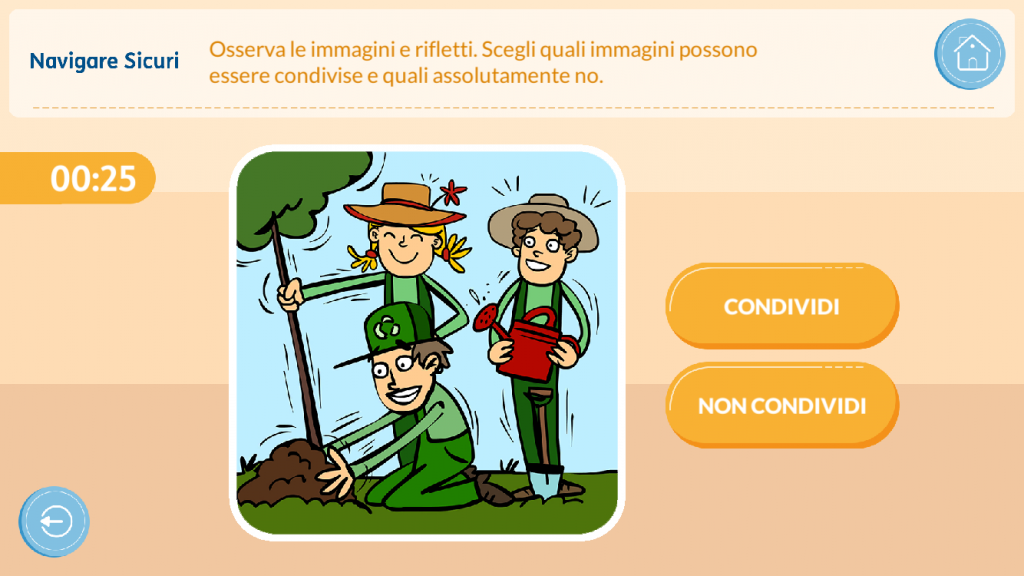 In its mini-game in which children are called to see if the given situation can be shared online or not.
2. Un nuovo amico? A new friend?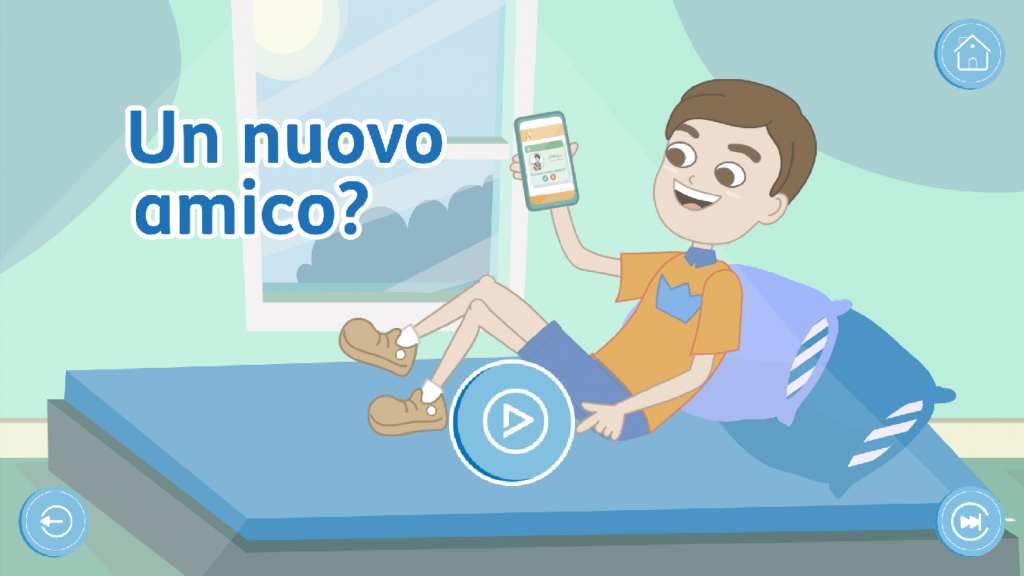 Chatting using smartphones and social media is an activity that all we do to communicate nowadays. In this episode, Fede receives an invitation to chat and meet a "new friend" that will prove to be a person with evil intentions. Therefore he will report it to a cop who will prevent the impostor's plans.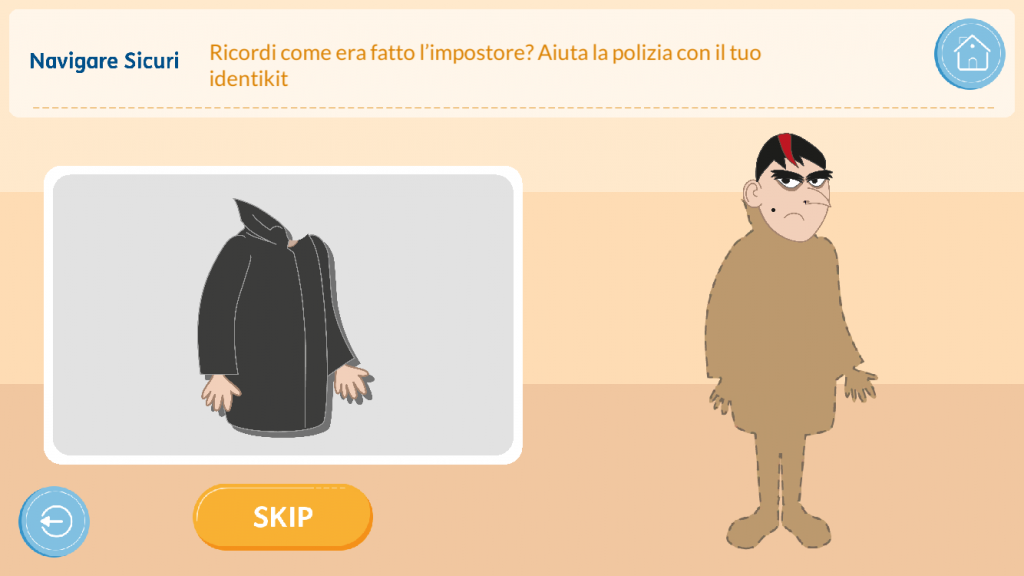 In its mini-game children will practice recognition skills by making the villain's and the cop's identikit to teach children how to identify the right people to contact in case of danger.
3. Selfie che passione! Selfie mania!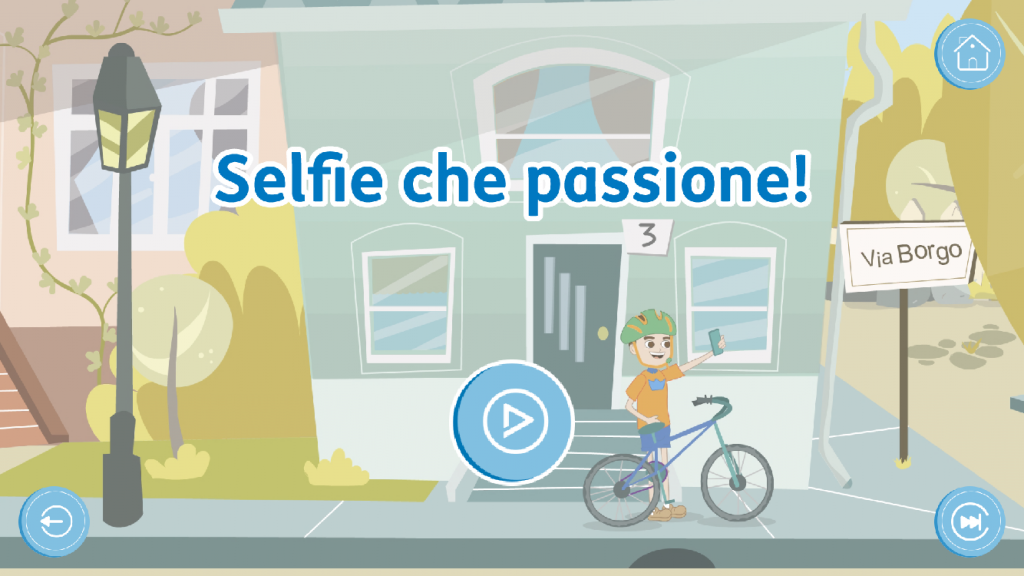 Who loves selfies? In this episode, we will see Fede a super passionate about photography… of himself. He loves taking selfies of all types and in many places. At home, at school, on the street, risking sometimes unpleasant incidents.
What Fede instead should know is there is sensitive information which to focus on before sharing a selfie, to avoid being easy prey of impostors lurking just on social networks for example.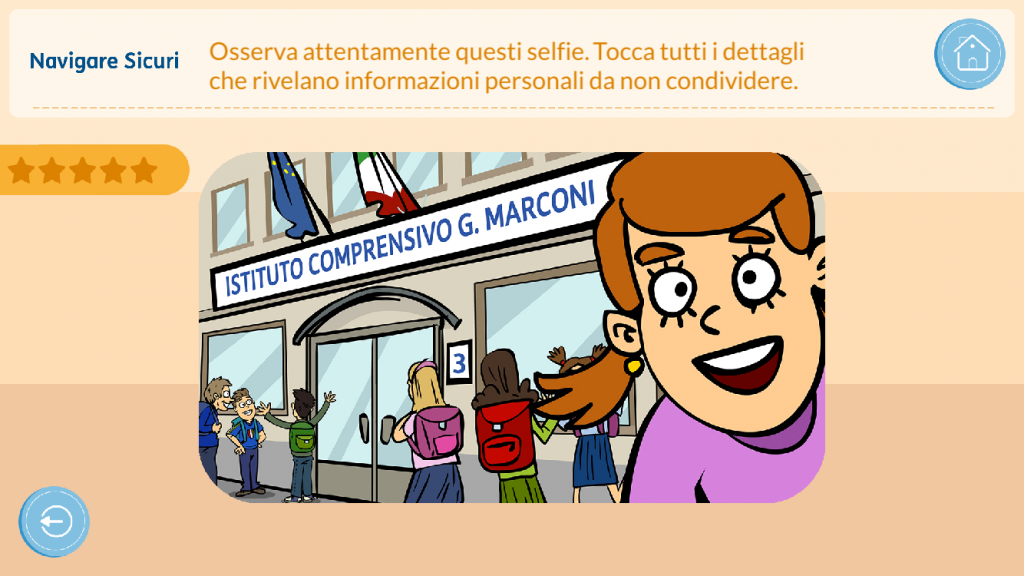 In this mini-game, children must recognize the sensitive information in a photo published on the web.
4. Compiti a casa! Homework!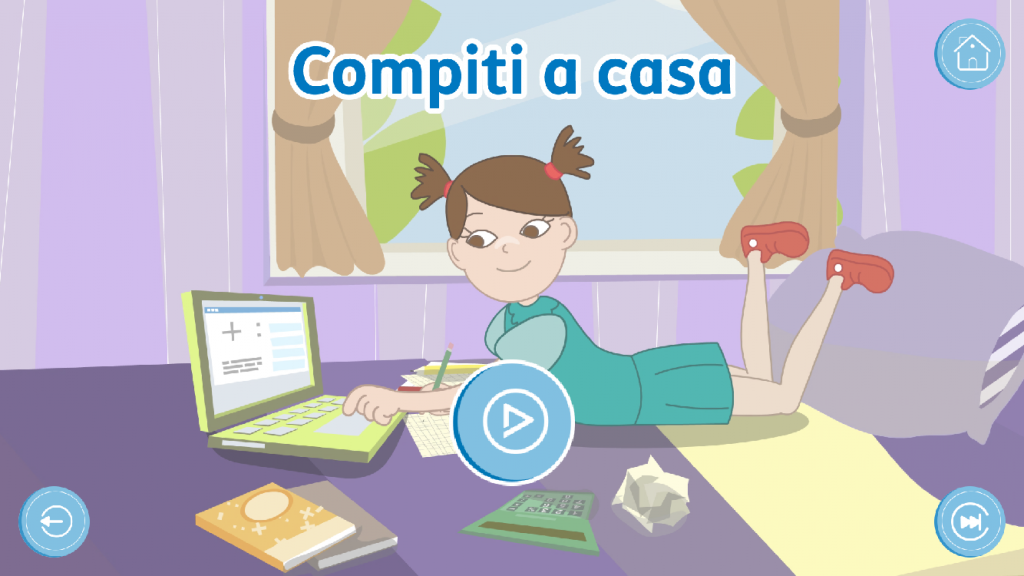 How many of us would have dreamed of using the internet to do homework when we went to school? There would surely have made our life more comfortable. We will learn about this topic in our fourth episode in which Ale will be struggling with a computer affected by a virus that will prevent her from continuing to do her homework. Why? Because she had received and opened a file that contains a virus.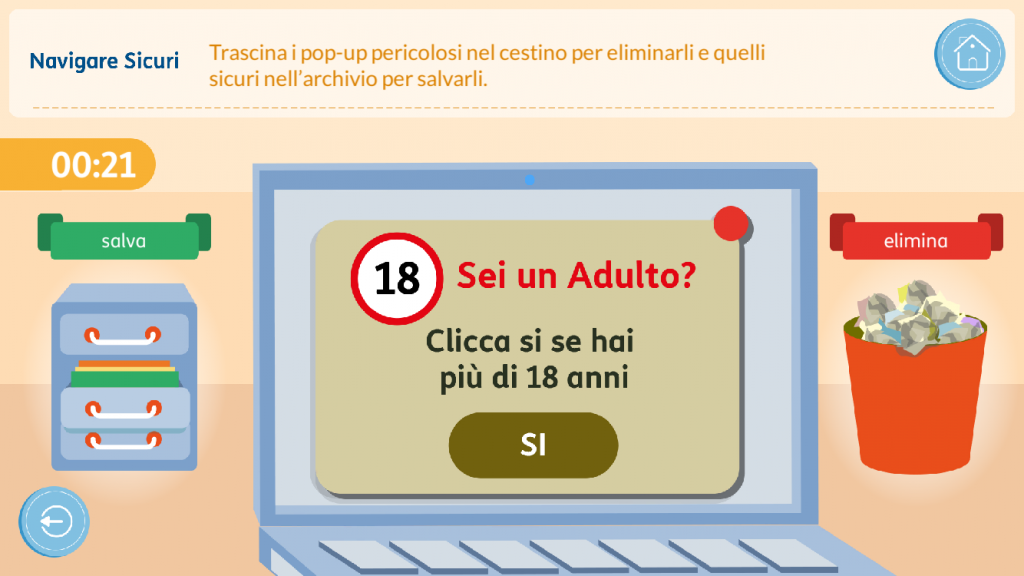 The mini-game is about the recognition of potentially harmful files to any electronic device.
5.Torta in faccia! A pie in the face!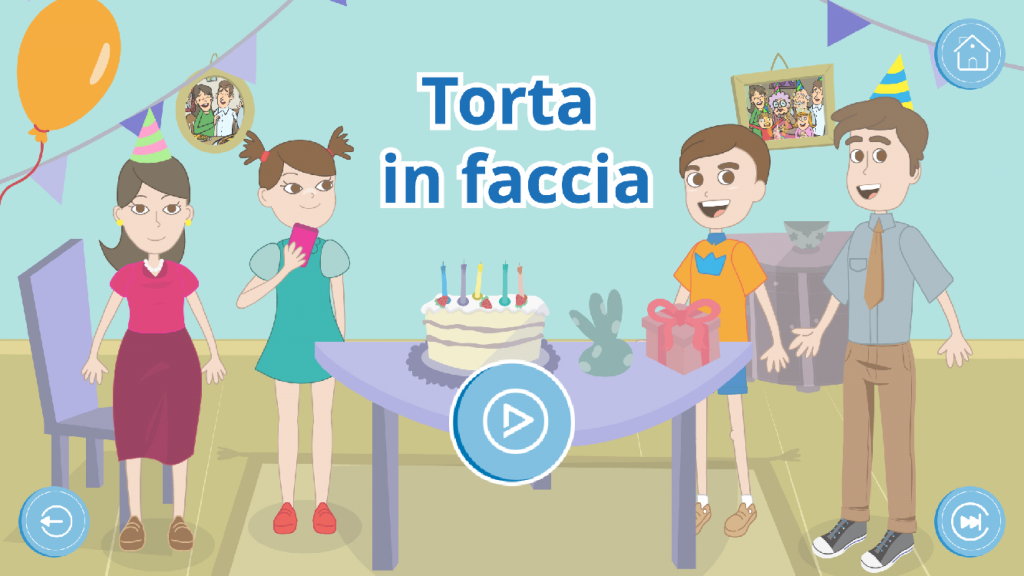 At Fede's birthday, the whole family is celebrating. At the moment Fede blows the candle, that's when Ale squashed the cake in the face of his brother, and then take a photo with the intention to share it online without the consent of the subject that gets mad.
In this episode we let children reflect and to consider people's privacy, understanding it is necessary to ask permission from the subject before sharing a picture online.
In its mini-game children must recognize whether the picture shown is harmless or not by putting an approved or not-approved sticker on them.
Parents' and Educators' Area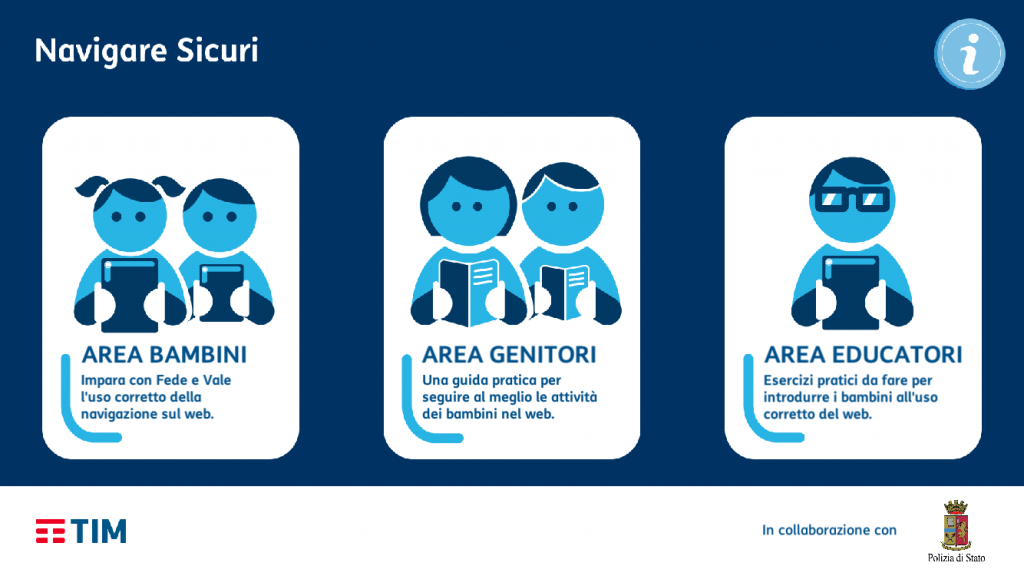 Navigare Sicuri is not just for children but also for parents and educators. This corner offers solutions and practical advice to follow our little ones to the discovery and the use of the internet in a safe manner.
---
Cartoon Credits:
Script: Katrin Ann Orbeta
Direction and Art Direction: Vincenzo Merenda, Katrin Ann Orbeta
Character Design: Katrin Ann Orbeta
Background Design:  Vincenzo Merenda
Storyboard, Animatic, and Animation: Zoltan Fritz
Original Music: Gergely Buttinger
---