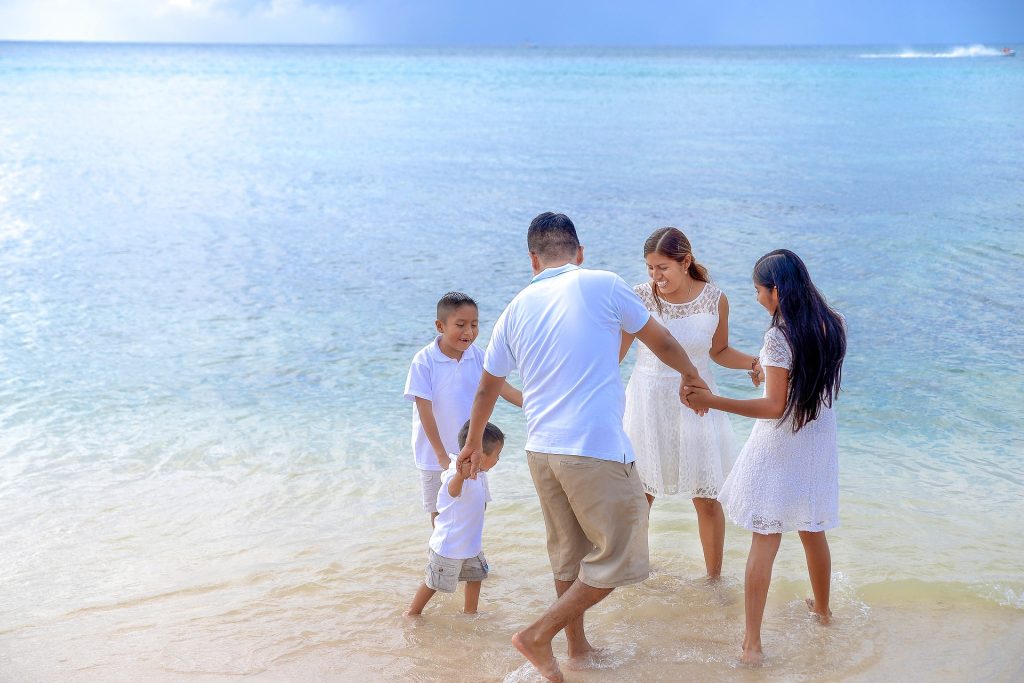 Holidays are approaching, and as most new parents already know, things change when travelling with children. Forget about the days when the suitcase was made at the last minute. In fact, to move without stress, everything must be planned well ahead. The more prepared you are, the more enjoyable and the journey will be. To help you simplify things, we've made a list of helpful tips to help you and your child get to their destination without stress.
Organise the trip with children
1. Plan your holiday to have everything under control. Organise and write your itinerary, listing the hotels and places to visit. Do not forget, for each stop, to look for specific mom-friendly points, where mothers can breastfeed in peace and in privacy.
2. Plan well your flight schedule. Try to organise the trip when the child usually takes a nap, or at night. A rested baby is a happy and relaxed baby!
3. Book smart. When you like a hotel and are about to book, check if the hotel street is uphill, if there are many stairs, or if they play music until late. Comments and feedbacks from previous customers might help.
4. Transport of baby food. In many airports, it is possible to transport milk for babies in containers with a capacity of even over 100 ml. To avoid inconveniences, check at the airports where you will be travelling and review their requirements.
What to bring for you and your children.
5. Drug kit. Don't forget to always carry with you a small emergency kit: Thermometer, plasters, disinfectants, paracetamol for fever, lactic ferments, oral rehydration solutions, antibiotics, sun creams, sunburn ointment, anti-mosquito and post-puncture spray
6. Games and books. Bring small games and books with you so that your child can spend pleasant hours of travel.
7. Make a list. (And recheck it!) Making a list of what you need during your trip will help you not to forget anything and get everything you need.
8. Pack extra diapers in your suitcase. As a general rule, bring a diaper for every hour of travel, and someone more in case the flight is delayed.
9. Stock up on wet wipes. The wet wipes will be your best travel friends: You will need them not only for diaper changes, but they will be useful to clean the seats of the plane tables, handles and everything your child can touch.
10. Bring some blankets. Bring more than one, as it is quite cold on the planes; so you can curl up with your baby without suffering low temperatures. A good tip is to bring a blanket with different patterns on both sides, so you can easily remember which of the two parties you have placed on the floor.
---
---
On the plane with children
11. Check two suitcases and divide the child's clothes between the two: If one is lost at least, you will have the other to get by.
12. Choose the seat at the bottom of the plane. Sitting at the bottom of the flight means to be near the bathrooms for diaper changes. You will also have flight attendants closer.
13. Travel hands-free. Bring a baby carrier or wear a headband to keep your hands free at the airport and during the flight. The child will be closer to mom or dad, and this will help him feel comfortable.
14. Everything under control. If you are afraid that your child may get lost, buy a bracelet where you can write your name and phone number allowing anyone can call you. Alternatively, there are GPS tracking devices with specific apps.
15. Relax. Try not to get anxious if your baby starts crying. The child perceives your moods, and even he will become even more nervous. If you keep calm, your child will be more peaceful too. Enjoy every moment of the journey. Do not hurry, observe every little thing and return children together with your children.
---
READ ALSO: SICILY FOR FAMILIES
---
ABOUT THE AUTHOR
Letizia Grasso, Educationalist
"All grown-ups were children, but few of them remember it" This phrase is engraved on my heart. The child who marvels of small things is always with me. I firmly believe that the school should focus on the self-construction of knowledge through direct contact with the outside world and, therefore, through the experiences of life. A school open to life and from life itself learns, that therefore teaches to observe every little thing, to wonder and to ask questions. A school that forms adults who know how to reflect and put into a relationship the mind and heart."